Professionally speaking, I wear many hats.
I've been the owner of an audio/video production and multi-media marketing firm since 1993. Additionally, I'm an entrepreneur, author, speaker and a social justice advocate. I rally for the cause of families who have loved ones inside or outside of a prison or jail. On that note, I'm the author of the eBook "My Tips For the Journey," a free resource that can be found online.
On a personal level, I'm also proud to be the mother of one beautiful, sacred special lady! I'm a woman of integrity and love all of mankind. I'm generous to a fault sometimes. I love to laugh and feel others' joy in my bones. I care for the underdog always, because for so long in my life I was never white enough or black enough to fit in anywhere. I love those who I like to call UNICORNS, people who don't quite fit in anywhere. Because I, too, am a Unicorn.
I'm fearful and wonderfully made by my creator whom I like to call GOD! I hope to make my mark on this earth and restore empathy in America.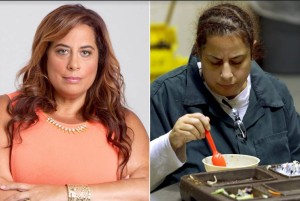 …Long Story Short:
My life was forever changed in 2012, when my daughter was sentenced to 10 years in prison. As a natural fixer, I knew I had to do something meaningful to fully come to grips with the situation for the sake of my own sanity. So I made a decision to go undercover in jail to better understand the realities that inmates and their families face following the life-changing event that is incarceration. My new television show "Prisoner of Hope" was inspired by my experience of voluntarily living in jail.
The lessons I learned from going to jail undercover for 60 days (A&E – "60 Days In" S2) are what continually pushes me to do this work. My primary takeaway was my observation that there is a human face to incarceration and there are typically three types of people who go to jail/prison:
• A person who made a mistake, learns from their mistake and will get out and never return again;
• A person who is truly innocent and is falsely accused but are serving time for a crime they didn't commit; and
• A person who is a true repeat offender and a criminal who should be kept inside to protect society.
The Journey
My story started long before I set foot in the jail cell (undercover) as you might imagine. I was brought up in a multicultural middle-class family. My father is African American, and my mother is Italian American. My father and mother were always leaders in their fields and did very well for themselves. Despite me having to experience their divorce at a very young age, they both instilled a spirit of integrity and how to work "smart" within me.
My parents led by example. My mother was a multi-million-dollar real estate saleswoman and my father was a top manager of the public school's maintenance department. They both were focused on their careers and showed me the beauty of sticking power. My mother always told me to focus on one or two things and to refine my talents, "so that you can become the expert in your field." With that in mind, I did just that.
As a child, I always was a big dreamer and had all these crazy goals about moving to New York and becoming a TV star. I really wanted to be a sitcom star because I just wanted to make people laugh and I had a desire to laugh as much as possible, as well.
My father thought that was not the best idea, since the entertainment field was male dominated at that time. He suggested that I consider doing something else that would be more stable. Did I listen? Ummmm… NOPE! So, I started pursuing acting classes and later, acting in plays. After a few long years of acting and making absolutely NO money, I realized my Dad was right. So, then I moved onto the IT field.
After a failed attempt at IT school, I decided to get married, move to the south (New Orleans) and stand by my award-winning, on-air DJ husband. While watching him thrive, I decided that I, too, still wanted to try again in the entertainment business.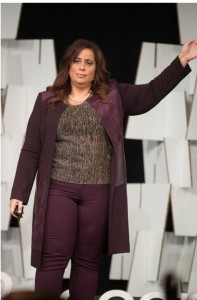 This time we both came together with a smarter approach. In 1993, we opened the production company SIERRA PRODUCTIONS, Inc. The company is still in business today and is named after our daughter. We did well for ourselves, starting with radio and TV commercials, with a long-term plan to produce TV programming and eventually movies. I used to say I wanted to be the next Penny Marshall. But after Hurricane Katrina hit, we lost everything. We ended up divorcing years later and I eventually moved to New York, to continue what I had started.
But before I began rebuilding my life in New York, a tragedy struck which led to the creation of the "Prisoner of Hope" television series. My daughter Sierra started college as a day student for her first year and a half, but within 3 or 4 months of transferring to an on-campus student, she became involved with the wrong crowd, got addicted to drugs very quickly and was on hand with this new groups of "friends" when they committed armed robbery. That's when Sierra was sentenced to 10 years in prison and my mission to fight for her life and my sanity began. That is how I ended up behind bars in a jail myself, voluntarily and undercover. And that's how I know the feeling of being on either side of the bars of a cell, and this is why I am uniquely qualified to fight this fight against the criminal justice system and share what I discovered, through the power of my experience in television and film production.
My Passion Project
By now, you've likely (and hopefully) heard of my new show "Prisoner of Hope." This program follows the experiences of families healing from the effects of mass incarceration across from both sides of the bars. It's an unfiltered look at how families and communities grapple with the devastating effects of imprisonment in America. The system is broken and its failing thousands of people every day.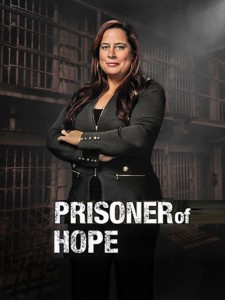 Perhaps even more concerning is the fact that the size, scope and critical importance of the problem is not well understood by the average American. It's my sincere intention that "Prisoner of Hope" will restore empathy in Americans again and bring about that needed understanding that the problem of mass and over incarceration in the U.S. should be a concern of every American. I envision a society when people of all races and cultures are more aware of the societal implications related to incarceration. I also hope to put a human face on the family members who are collateral damage, and often the most forgotten pieces of the puzzle, when it comes down to the wire of unravelling this tangled problem.
An Invitation
So, what now? I invite you to engage with me and my efforts in 3 ways:
1. Watch "Prisoner of Hope." Comment on it and share it to build our community, which proves people want this type of programming.
2. Book me to speak or moderate at events, panel discussions, churches, etc. I feel there's more to my talks than just incarceration. I believe I'm a change agent with an intuitive gift to connect with diverse groups of people.
3. Download my free eBook. This is a book for years 1-3 of a prison sentences. I like to say it's a handbook to help you gain confidence, clarity and courage for the journey ahead.
[Monalisa Johnson is a licensed and ordained minister of the gospel and a certified life coach as well as a mother and entrepreneur. In no way is anything that she writes, speaks or shares considered medical advice or clinical therapy. Consider all that you receive to be life coaching and guidance.]
Subscribe To Our Newsletter